ANALYSIS OF THE POTENTIAL AND OBSTACLES TO ESTABLISHING A VILLAGE-OWNED ENTERPRISE (BUMDES) IN THE GUNTUR SUBDISTRICT, DEMAK REGENCY
ANALYSIS OF THE POTENTIAL AND OBSTACLES TO ESTABLISHING A VILLAGE-OWNED ENTERPRISE (BUMDES) IN THE GUNTUR SUBDISTRICT, DEMAK REGENCY
Nugroho Tulus Rahayu

Ariyani Indriastuti
Keywords:
Potential, Constraints, Establishment, BUMDes
Abstract
Village-Owned Enterprises or BUMDes are pillars of economic activity in the village, which strengthens the village economy. BUMDes is formed by the village government based on the needs and potential of the village. In the Guntur subdistrict, Demak regency, 2 BUMDes have been established, namely SidorukunBUMDes in Sidokumpul village and SumberlancarBUMDes in Bakalrejo village. Eighteen other villages do not yet have BUMDes. The purpose of this study was to determine the initiative of the village government in establishing BUMDes, find out what the potential of the village to establish BUMDes, determine the obstacles in establishing BUMDes. The population of this research is the village government in the Guntur subdistrict, which consists of 20 villages and BUMDesSidorukun and BUMDesSumberLancar. The method used is the census method. Data obtained by interview. The analytical method used is descriptive analysis. The results of this study found that the initiative of the village government in the Guntur sub-district of Demak district in establishing BUMDes was still low. Potentials that can be managed by BUMDes include potentials in agriculture, rice, corn and green beans, cow and goat farms, village markets, and pure water. The obstacles in establishing BUMDes stem from the village government's understanding of BUMDes that is still low.
Downloads
Download data is not yet available.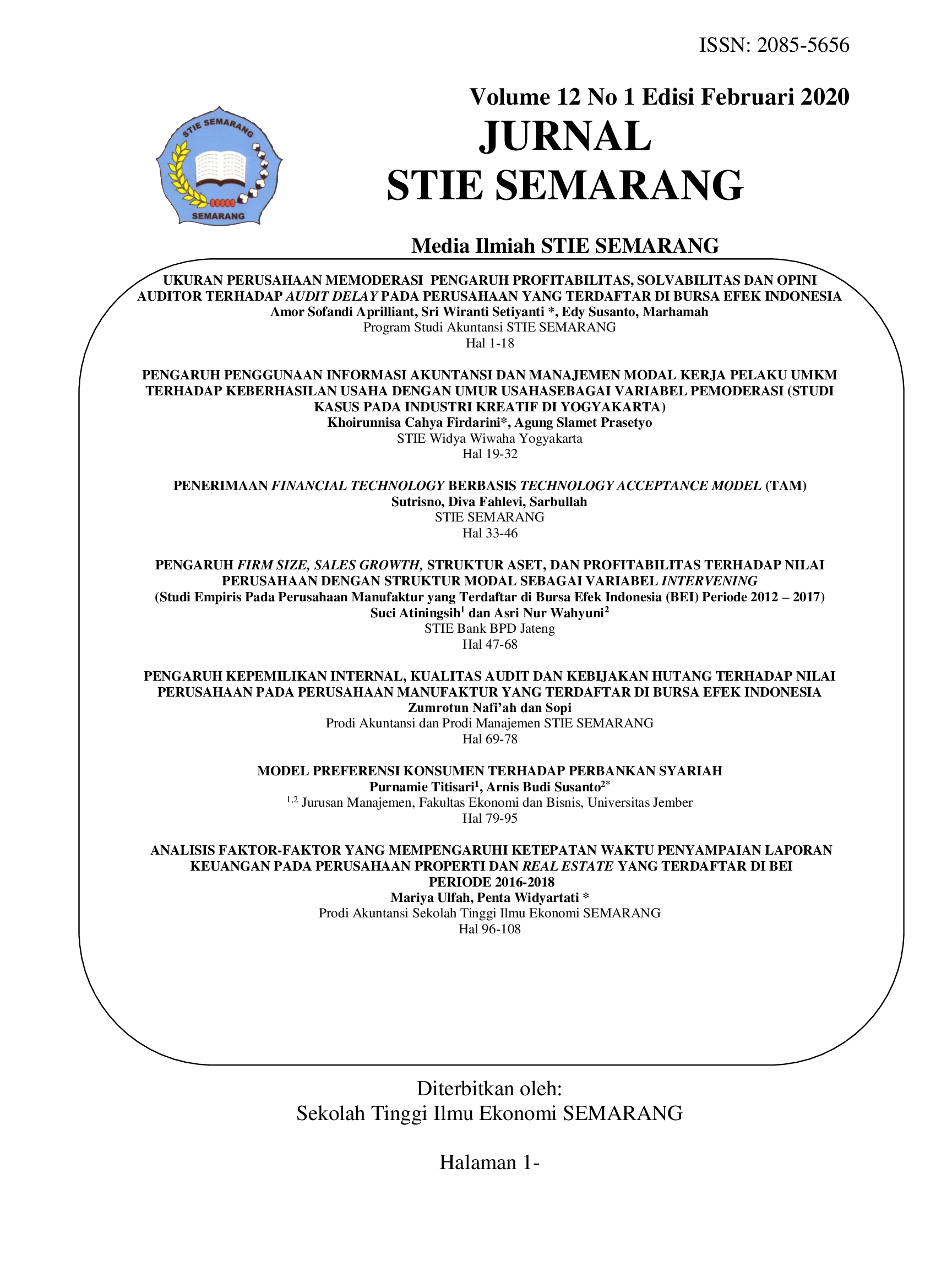 Please find the rights and licenses in Jurnal STIE SEMARANG. By submitting the article/manuscript of the article, the author(s) accept this policy.
License
The use of the article will be governed by the Creative Commons Attribution license as currently displayed on Creative Commons Attribution 4.0 International License.
Author's Warranties
The author warrants that the article is original, written by stated author(s), has not been published before, contains no unlawful statements, does not infringe the rights of others, is subject to copyright that is vested exclusively in the author and free of any third party rights, and that any necessary written permissions to quote from other sources have been obtained by the author(s).
User Rights
JSS's spirit is to disseminate articles published are as free as possible. Under the Creative Commons license, JSS permits users to copy, distribute, display, and perform the work. Users will also need to attribute authors and JSS on distributing works in the journal.
Rights of Authors
Authors retain all their rights to the published works, such as (but not limited to) the following rights;
Copyright and other proprietary rights relating to the article, such as patent rights,
The right to use the substance of the article in own future works, including lectures and books,
The right to reproduce the article for own purposes,
The right to self-archive the article,
The right to enter into separate, additional contractual arrangements for distribution of the article's published version (e.g., post it to an institutional repository or publish it in a book), with an acknowledgment of its initial publication in this journal (Jurnal STIE SEMARANG).
Co-Authorship

If the article was jointly prepared by other authors, any authors submitting the manuscript warrants that he/she has been authorized by all co-authors to be agreed on this copyright and license notice (agreement) on their behalf, and agrees to inform his/her co-authors of the terms of this policy. JSS will not be held liable for anything that may arise due to the author(s) internal dispute. JSS will only communicate with the corresponding author.

Royalties

This agreement entitles the author to no royalties or other fees. To such extent as legally permissible, the author waives his or her right to collect royalties relative to the article in respect of any use of the article by JSS.

Miscellaneous

JSS will publish the article (or have it published) in the journal if the article's editorial process is successfully completed. JSS's editors may modify the article to a style of punctuation, spelling, capitalization, referencing and usage that deems appropriate. The author acknowledges that the article may be published so that it will be publicly accessible and such access will be free of charge for the readers as mentioned in point 3.

##"article.abstract"## viewed = 128 times preview pdf 109-119 downloaded = 89 times